Effective S/4HANA On-Premise ERP Solutions
As an SAP gold partner, Influential is expertly placed to advise on all forms of S/4HANA on-premise solutions. When recommending SAP HANA on-premise solutions, Influential considers the many variables that define your business. The Influential SAP team will guide you to the ideal custom solution through our process of consultation and analysis.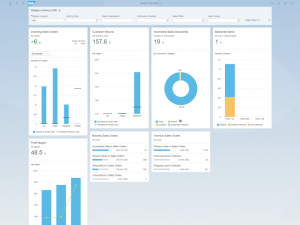 SAP S/4HANA:
On-Premise vs Cloud
SAP on-premise solutions and S4 HANA Private Cloud solutions have their own strengths in terms of customisation, control, and costs, depending on your business needs.
If you have already decided to take the on-premise route, then within that category there are two options to consider: appliance and tailored data centre integration.
Explore S/4HANA On-Premise Options
SAP's appliance option allows you to go live in the minimum amount of time. The in-memory platform provides real-time power behind a firewall controlled by you.  The preconfigured approach means you can pick the hardware components you need.
Preconfigured Hardware
Preinstalled Software
Solution Validation
Tailored Data Centre Integration
The TDI option is more flexible than appliance. Your business can choose its infrastructure components from a range of supported SAP HANA hardware possibilities.
TDI creates a significant reduction in costs by leveraging your existing hardware. This also has the effect of simplifying your integration with SAP HANA. The Influential team is on hand to analyse how your business can deploy SAP HANA on top of your current IT landscape, thus maximising the impact of your investment.
Use Existing Hardware and Infrastructure
Lower Cost and Risk
Greater Control and Flexibility
S/4 HANA Cloud Influential