SAP S/4HANA Private Cloud Delivery
Many businesses ask Influential about the respective benefits of SAP S/4HANA Private Cloud options versus on-premise and hybrid solutions. Our team can outline the pros and cons of each as part of the initial consultation. Enabling clients to make informed choices is the heart of Influential's approach.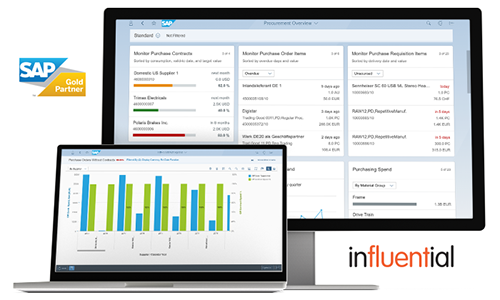 In essence, all S4 HANA private cloud-based software is hosted on the vendor's servers and accessed via a Web browser. On-premise solutions, on the other hand, are installed on the business's own servers.
There are variations in customisation, control, and cost between the two, as well as sub-categories to consider.
While an S4 HANA private cloud is provisioned over a private IT infrastructure, a S/4HANA public cloud is accessible to everyone and may be billed on a pay-as-you-go basis. A related term is the virtual private cloud (VPC), where the cloud uses a third-party provider's infrastructure.
The Influential team considers all varieties of cloud ERP implementation with your business as part of the consultation and analysis process, to ensure you get the best-value solution.
The SAP HANA private cloud option has two tiers that should be evaluated according to your business needs.
SAP S/4HANA Private Cloud Options
The S4 HANA service's top two tiers are known as the SAP HANA Enterprise Cloud (HEC). The lower of these two tiers is the S/4HANA Cloud Private Option. While keeping a standardised SAP private cloud, this option offers companies a great deal of HANA's flexibility. Virtual private clouds are dedicated to each tenant, with hosting in your preferred region, country, and language. As in a standard S/4HANA landscape, the tenants have the range of HANA functions and shared responsibility with the vendor on governance.
On the downside, the Private Option lacks brownfield migration. Therefore tenants are required to build a new landscape. Custom code is also not supported.
Custom S/4HANA Enterprise Cloud
This is the top tier of the SAP HEC. The Custom Hana Enterprise Cloud adds the options that are lacking from the Cloud Private Option. Enterprises are able to migrate their current landscapes and modify their S/4HANA solution however they wish.
S/4 HANA Cloud Influential